Find the Assisted Living Community
that is Actually Right for You
Assisted Living (AL) can generally be described as communities that are licensed by the state to provide a wide range of services, amenities, and personal assistance to residents. They usually house's a 24/7 staff that maintains the property and takes care of daily tasks such as cleaning, housekeeping, and preparing meals. Communities promote independence and freedom but they typically employ different types of caregivers that can supervise and assist with daily tasks and non-medical care needs. These include the activities of daily living (ADL's) such as medication management, assistance with bathing, dressing, and personal hygiene. In house medical care and rehab services are usually limited in Assisted Living though on-call licensed nurses, doctors, and therapists can come from outside of the community and treat residents. These include visiting Registered Nurses (RN), General Practitioners (GP), Psychologists, and Physical therapists (PT). Assisted Living communities typically have many other great benefits such as social, cultural, recreational activities, and events. There is usually various exercise classes, entertainment, and virtually all communities provide transportation.
Assisted Living is ideal for those who:
Want a Maintenance reduced or free lifestyle
Are finding home management to be more difficult
Need assistance with daily tasks (idal's) and/or care needs (adl's)
Have been diagnosed with any level of memory impairment (MCI, Dementia, Alzheimer's)
Prefer a more affordable option rather than costly in-home care assistance
Wish to live in a more safe and secure environment
No longer want to live alone in their home
Need to relocate to be closer to family and friends
Lack social and recreational opportunities
Like to enjoy diverse activities, programs, and classes
Need regular transportation for errands and appointments
What are the main types of Assisted Living?


Independent Living
Ideal for those who no longer want to live alone or who are seeking a maintenance free lifestyle. Complementary services generally include a 24/7 staff or concierge, daily housekeeping, laundry, grocery shopping, meal preparation. Perks consist of furnished rooms, fitness rooms, beauty salons, pools, scheduled events, social engagements, activities, and transportation. Like most Assisted Living Communities they accept respite or short-term and long-term stays.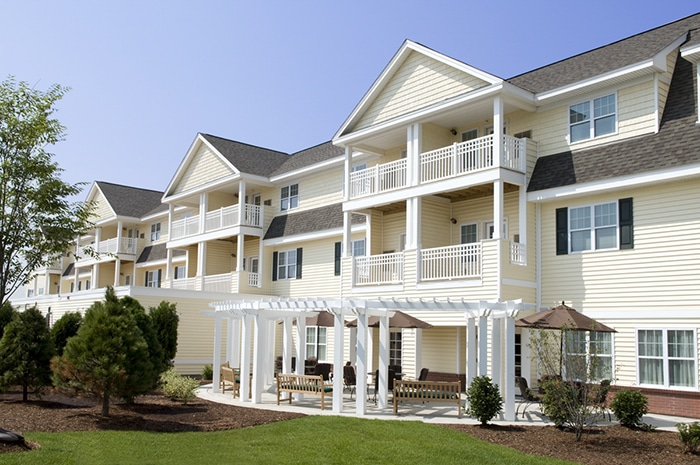 Assisted Retirement Living
Consists of an in-house care staff that always includes caregivers and often an onsite physician or licensed nurse. The doctor or nurse can assist with medical needs during the daytime and the caregivers will be able to supervise and provide non-medical assistance 24/7. They can help with medication supervision, dressing, grooming, grocery shopping, preparing meals, using the phone or newspaper, and they can escort to medical appointments. Many times there are wellness programs, scheduled activities and events, diverse in-house amenities such as a library, computer room, exercise room, and outings to the shopping malls and movie theaters.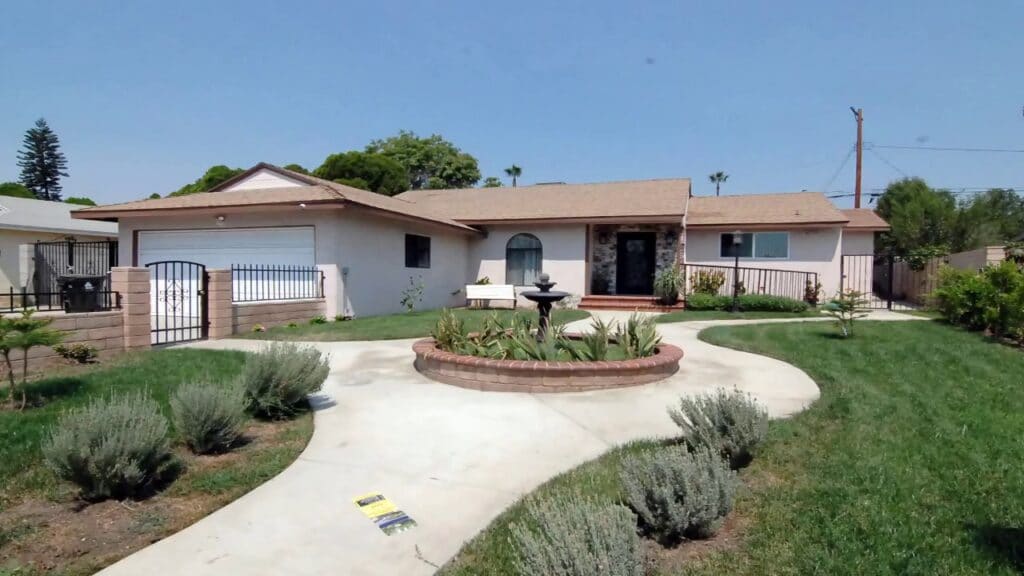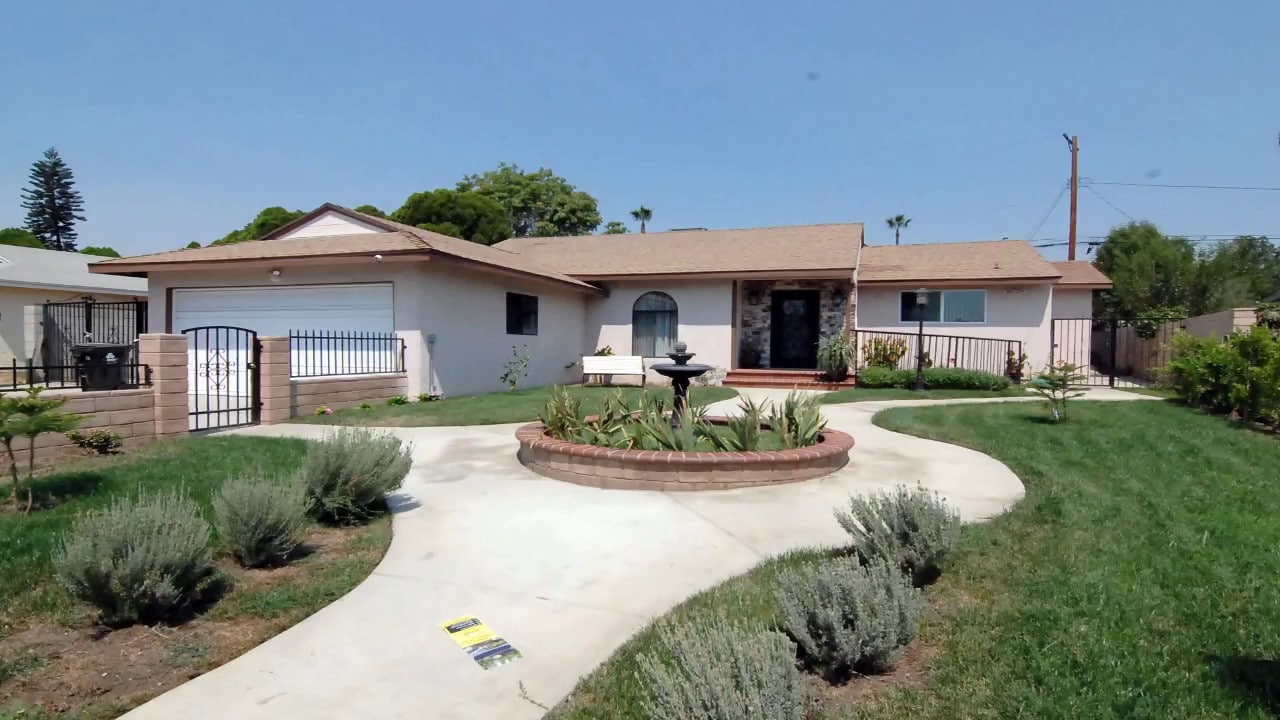 Board & Care
A board and care is a residential house where you can receive 24/7 assisted care. They are usually licensed for a maximum of 6 residents and have at least two caregivers in the daytime and one at night which is ideal for individuals who require more assistance and attention. They assist with all of the basic activities of daily living (adl's) such as medication management, dressing, bathing and they can care for people with more intense needs such as assistance with feeding, incontinence care, and two person transfers. They also employ caregiver's that are specially trained to assist Seniors who have been diagnosed with late-life conditions such as Dementia, Alzheimer's, and Parkinson's.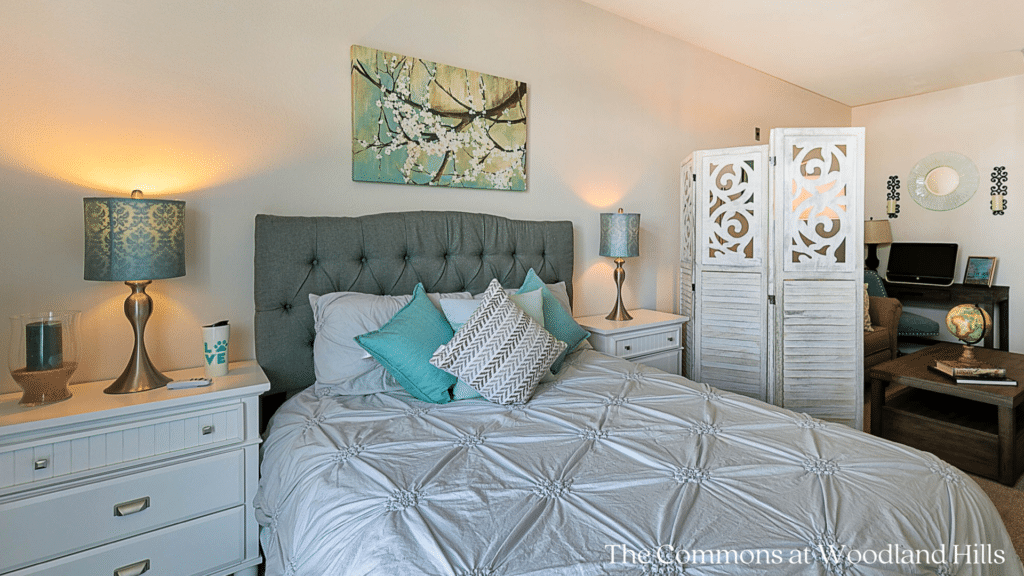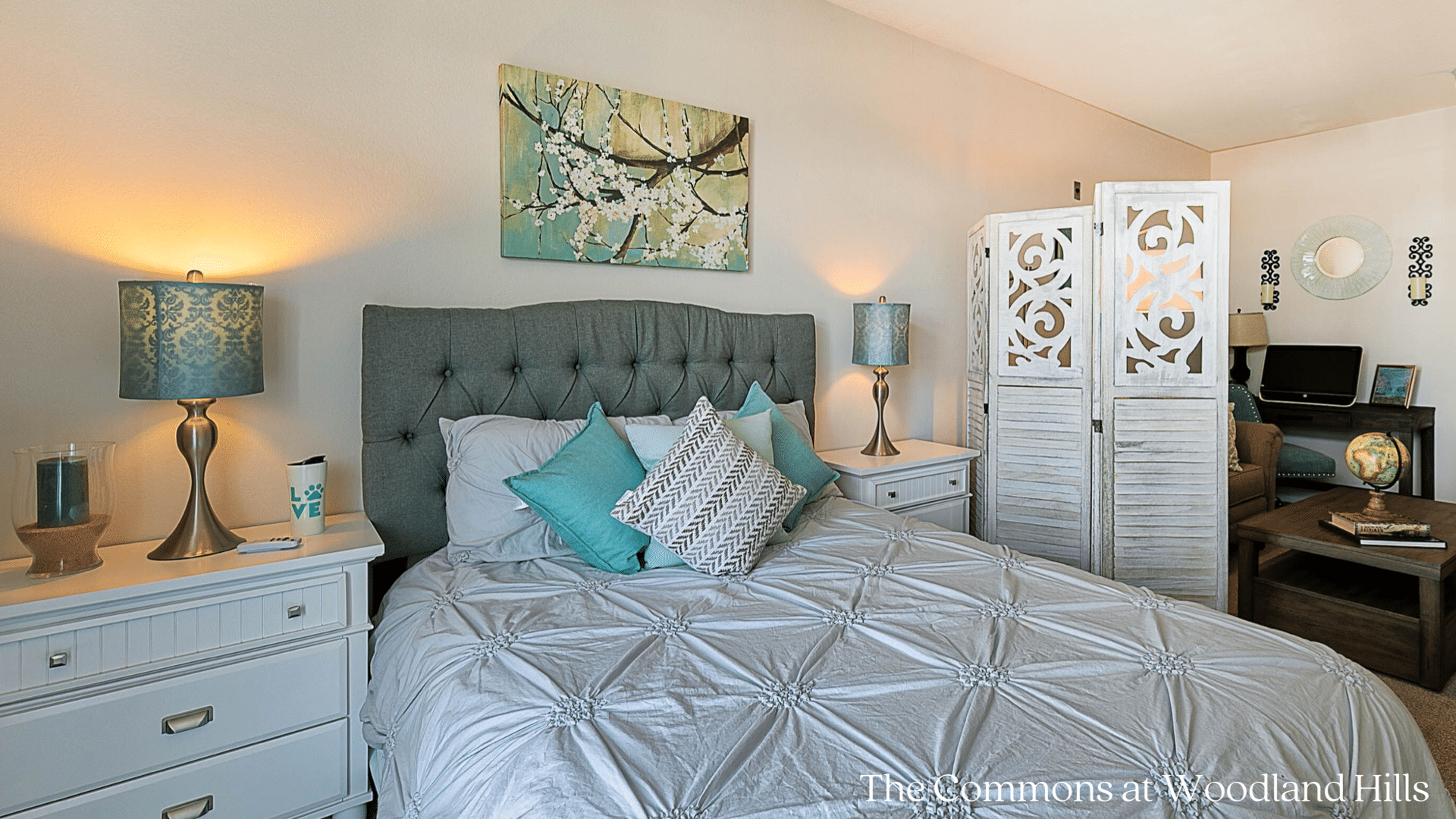 Memory Care
For loved one's diagnosed with Mild Cognitive Impairment (MCI), Early, mid, later stages of dementia, and Alzheimer's. Memory Care options have a staff trained to assist and care for them and usually they include such safety measures like controlled access, a wanderguard system, delayed egress doors They even have special care programs designed specifically to help people with the challenges associated with memory impairment.
Continuing Care Retirement Community (Life Plan)
Includes independent living, assisted retirement living, memory care, and a skilled nursing facility all on the same property. The concept is such that no matter what type of care or level of assistance you will ever need, you will not find yourself in the unfortunate circumstance of having to move to another community. You'll always be able to receive the service and assisted care you require all under one roof.
Assisted Living Facilities Comparison Chart

How do I pay for Assisted Living?
Basically all Assisted Living communities accept:
Private pay (out-of-pocket)
Long-term care insurance
Veteran's Benefits (VA Form 21-2680 -Permanent Need for Regular Aid and Attendance)
Click here to download 
Some Assisted Living communities may accept:
Medi-cal (Medicaid) and other state programs though Medicaid will only pay part of the costs for Assisted Living.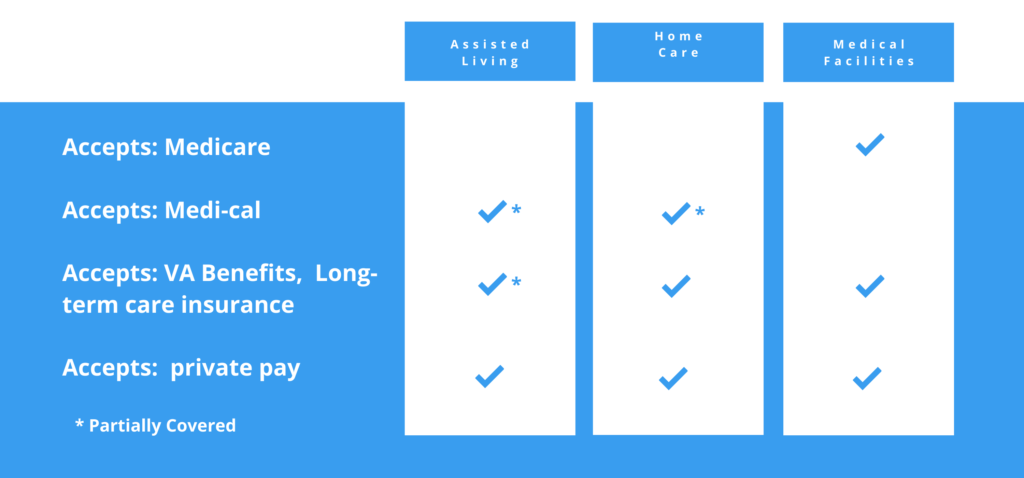 How much should I expect to pay?
The average monthly cost for an AL Community in the United States is approximately $4,500 (all-inclusive cost). This is generally the more affordable and practical option rather than staying at home with a caregiver (about $28 per hour) or remaining in a skilled nursing facility for the long-term.  If you stay home and hire a caregiver you will also have to continue paying your mortgage, homeowners insurance, property taxes, utilities, phone bill, cable bill, internet bill, food, and maintenance costs. Additionally, you may need to pay extra costs to make sure your home is safe and secure. This includes medical equipment (shower chair, transfer bench, hospital bed) and home modifications (wheeelchair ramps, lifts, railings, grab bars). If you add up all of those expenses, staying home could definitely cost more. And Simply continuing to staying long-term in a skilled nursing facility usually costs $400 or more dollars per day which is almost three times as much as the average Assisted Living Community.
The biggest factor in price and how much you will pay in an Assisted Living community is determined by the amount of assistance or how much care you need (level-of-care). You should expect to pay a higher amount if the amount of care you require is higher. Generally these such care needs can make the cost go up: incontinence care, feeding, two-person assist's or transfers, p.m. assistance (care needed multiple times at night). Other factors that may increase your rate include any additional preferences you may have such as: room size, and luxury amenities such as resort-style living and restaurant-style dining.
Secure Your Personalized and Discounted True Price
Frequently Asked Questions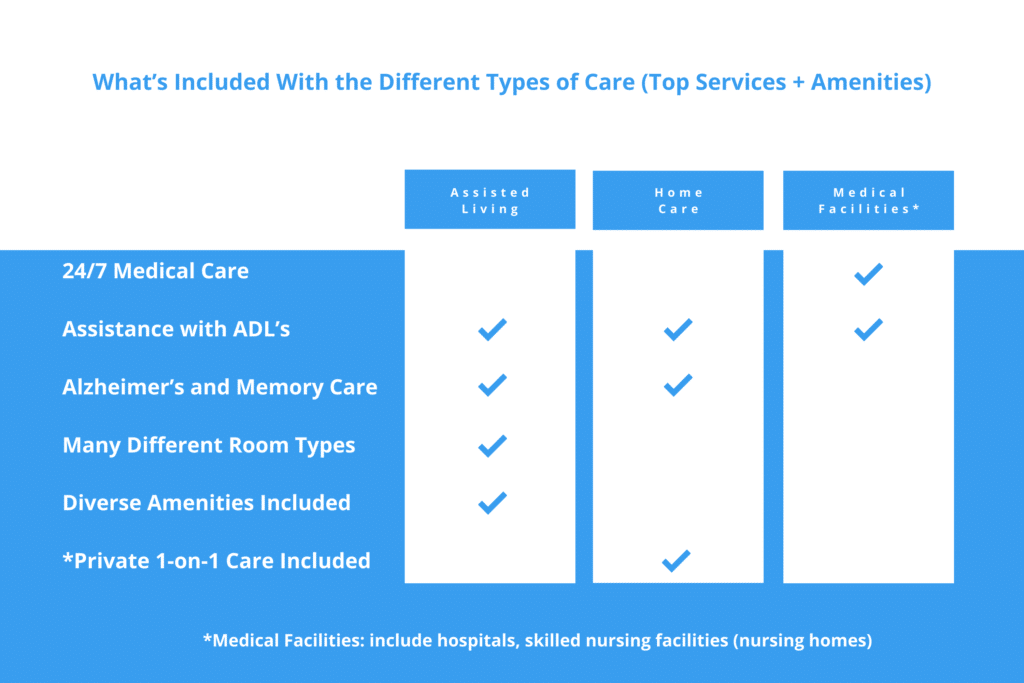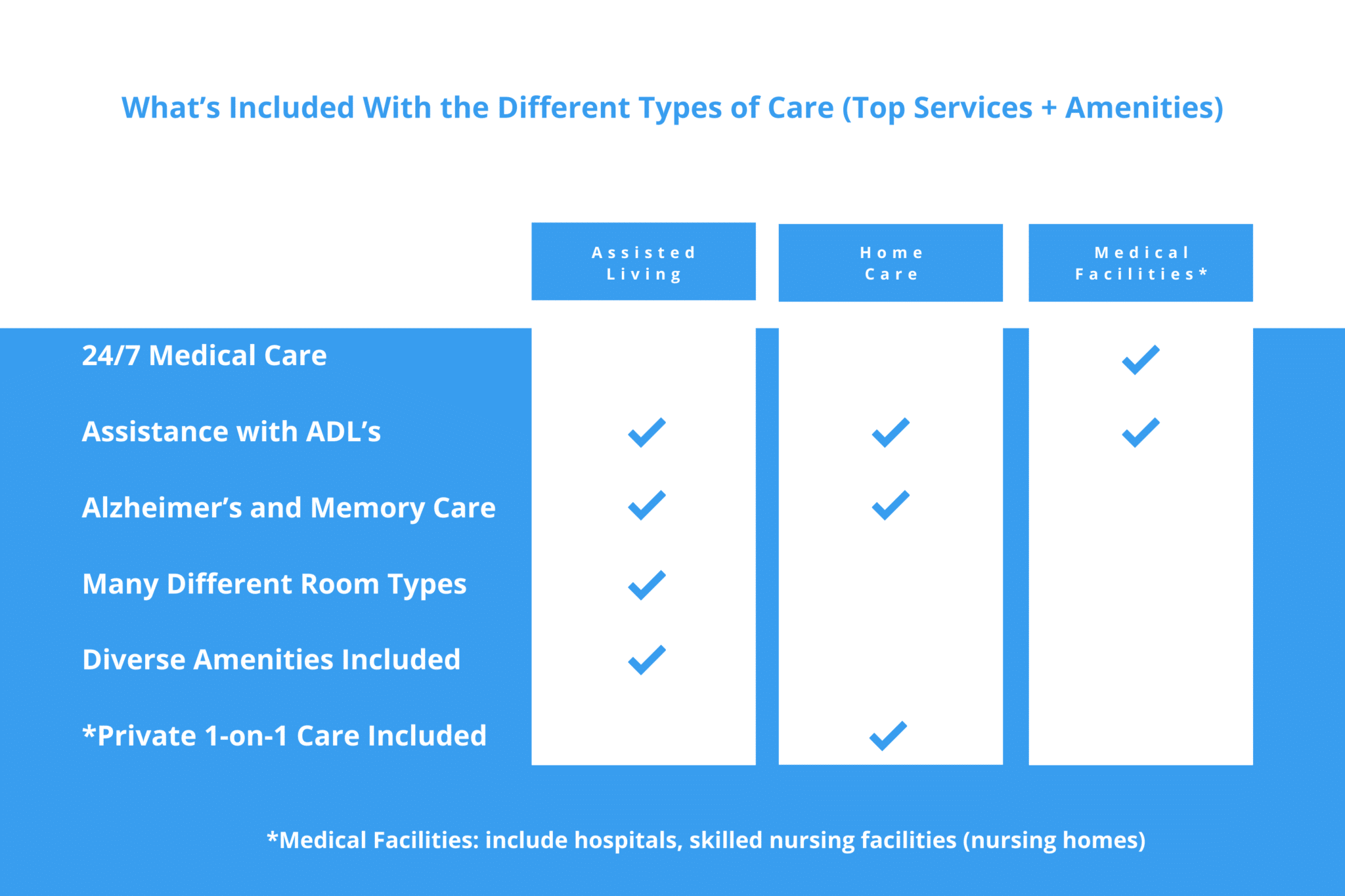 True facts you may not know about Assisted Living Communities:
7 out of every 8 residents in assisted living are female. Hello gentlemen!
They are very safe communities to live in because they are licensed through the state, have random inspections, and every staff member is required to have a thorough background check. 
The lease is generally month-to-month with no long-term commitment. So you may leave at anytime for any reason with usually only a 30 day notice.
There are residential single family homes called Board & Care's that are licensed Assisted Living Communities. So there might even be a house right next to you that's an assisted living and you don't even know it. 
If you are a qualifying Veteran there are programs, non-profit organizations, and even lawyers who specialize in expediating your VA benefits to pay for Assisted Living. Contact us anytime 24/7 for more information.
Those with memory impairment, dementia, and Alzheimer's are a great fit for Assisted Living Communities. Unlike nursing homes (skilled nursing facilities) they have beautiful, safe, and secure settings with daily special programs that are specifically designed for people with memory impairment. 
Key Terms and Abbreviations
AL = Assisted Living
ALF = Assisted Living Facility
RCFE = Residential Care Facility for the Elderly (technical term for licensed Assisted Living Communities in California)
B&C = Board and Care
ARL = Assisted Retirement Living
CCRC = Continuing Care Retirement Community (Life Plan)
SNF = Skilled Nursing Facility or nursing home (commonly mistaken as Assisted Living)
Adl's = Activities of Daily Living (such as: medication management, assistance with bathing, dressing, and personal hygiene)
Iadl's  = Instrumental Activities of Daily Living (such as: grocery shopping, meal preparation, assistance with the telephone, newspaper, radio, or managing finances)
LTC = Long-Term Care
PCP = Primary Care Physician
GP = General Practitioner
NP = Nurse Practitioner
DON = Director of Nursing Services
RN = Registered Nurse
LPN = Licensed Practical Nurse
DSD = Director of Staff Development
SSD = Social Services Director
LVN = Licensed Vocational Nurse
CHHA = Certified Home Health Aide
CNA = Certified Nursing Assistant
CG = Caregiver
DME = Durable Medical Equipment (such as: a wheelchair, shower chair, and fww or front wheel walker)
PT = Physical Therapy
OT = Occupational Therapy
ST = Speech Therapy 
RT = Respiratory Therapist
ROM = Range of Motion
CPR = Cardiopulmonary Resuscitation
AED = Automated External Defibrillator
MCI = Mild Cognitive Impairment
DPOA = Durable Power of Attorney
VA = Veterans Affairs
LTCI = Long-Term Care Insurance
CDSS = California Department of Social Services
DHCS = Department of Health Care Services
HMO = Health Maintenance Organization
PPO = Preferred Provider Organization
HIPPA = Health Insurance Portability Accountability Act